ON/OFF SHORE FACILITIES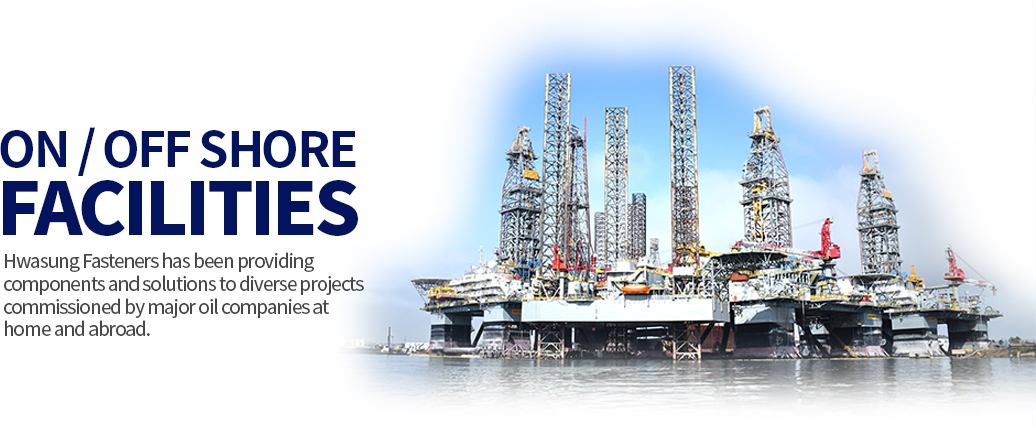 Hwasung Fasteners mainly produces and offers special bolt and nut solutions with excellent corrosion and thermal resistance, proactively coping with changing market requirements.
Hwasung Fasteners has offered products and solutions as a top-tier vendor to Hyundai Heavy Industries, Samsung Heavy Industries, and other companies in Korea, and has accumulated wide and deep experiences in global projects in various global locations with a proactive approach for product quality through acquiring NORSOK, a Norwegian standard for off-shore installations.
Key Products
STUD BOLT
HEAVY HEX BLOT
HEXGON NUT
INSOLATION PIN
U-BOLT
DOUBLE END BOLT
BOLT CAP
WASHER

NUCLEAR POWER PLANT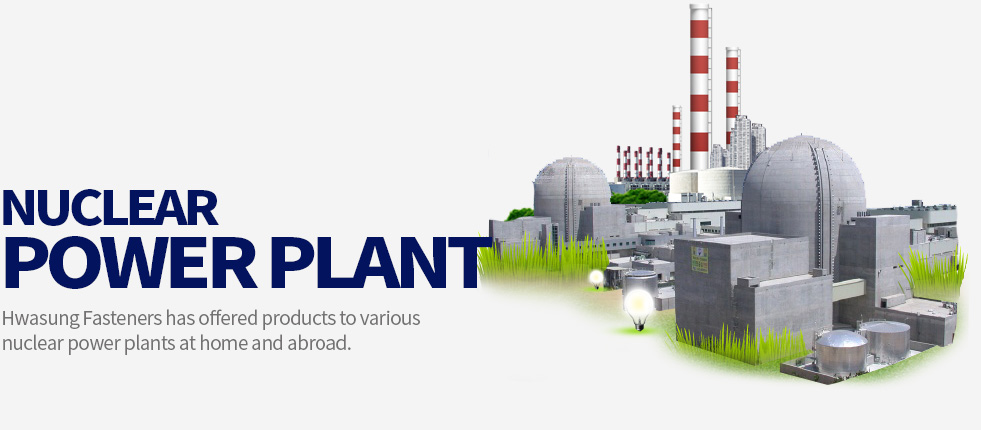 Hwasung Fastners has also offered products to various nuclear power plants such as Hanul, Hanbit, Gori, and Wolseong in Korea, and in UAE (BNPP) as well.
Key Products
STUD BOLT
HEAVY HEX BLOT
HEXGON NUT
SHOULDER BOLT
ANCHOR BOLT
TIE ROD, DOWEL PIN
BOLT CAP
PLAIN WASHER
HEAVY HEX NUT(HEXGON NUT)
DOUBLE END BOLT

REFINERY & PETROCHEMICAL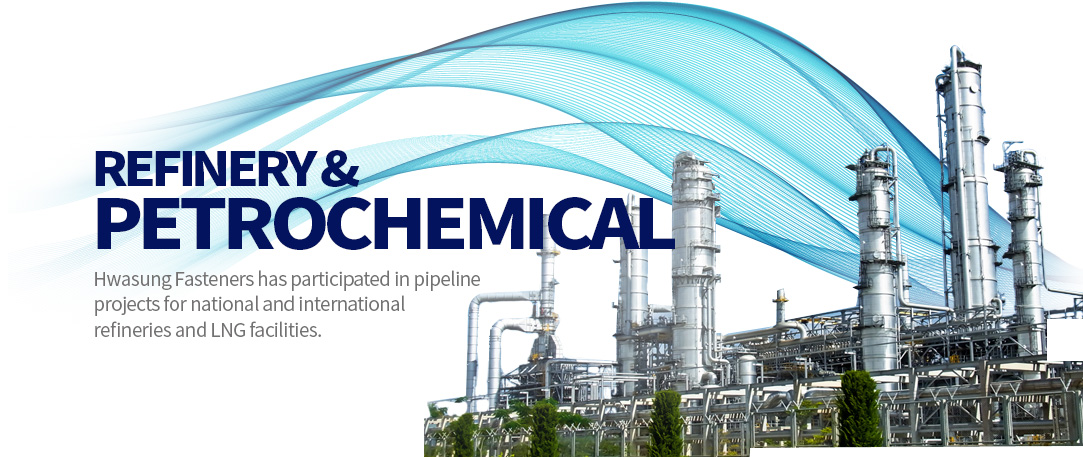 As a certified vendor of KNPC, Kuwait's state-run oil firm and SamRef, a Saudi Arabian oil firm, Hwasung Fastners has been actively handling demands from refinery and petrochemical industries in the Middle East.
Key Products
STUD BOLT
HEX HEAD PLUG
ANCHOR BOLT
U-BOLT
HEAVY HEX BOLT
PLAIN WASHER
HEAVY HEX NUT(HEXGON NUT)
LOCK(SRPING) WASHER

POWER PLANT & CONSTRUCTION

Hwasung Fastners has offered products to various hydro-electric and thermal power plants in Korea such as Dongdoocheon, Boryong, Samcheok, Taean, Dangjin, Pocheon, etc.
Hwasung Fastners has also participated in construction projects at overseas locations such as UAE, Qatar, Nigeria, Oman and Turkmenistan.
Key Products
STUD BOLT
ANCHOR BOLT
HEAVY HEX BOLT
HEX HEAD PLUG
PLAIN WASHER
LOCK(SRPING) WASHER
DOUBLE END BOLT
TIE ROD